For Home Buyers, Knowledge is Power. Having a home inspection before you close on that new home could save you lots of time and money. Just because a house appears to be in excellent condition does not guarantee it. Many conditions are not visible or apparent and others require the services of a specialist to see. Here are some advantages of having a professional inspection.
>> Eliminate Surprises
>> Negotiate from a Position of Knowledge
>> Learn the True Value of your Real Estate Investment
>> Know What's Important

For Home Sellers... BE PREPARED - Get an inspection done first and make the sale easier! Do not assume that your house is in excellent condition just because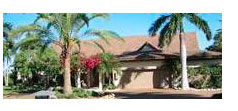 you have lived in it and personally taken good care of it. There is no way to know every aspect of your home by just living there. An inspection will give you this knowledge and help you avoid any problems with a buyer.
Realtors and Insurance Professionals can serve their clients better and protect their interests with one phone call to schedule all your client's inspection needs:
>> Home Inspection
>> Roof Inspection
>> Mold Inspection
>> Indoor Air Quality Inspection
>> Radon Inspection
>> Seawall Inspection
>> Pool and Spa Inspections